The ad IVECO Daily 35 C18 car transporter for sale by auction has been sold and is not included in the search!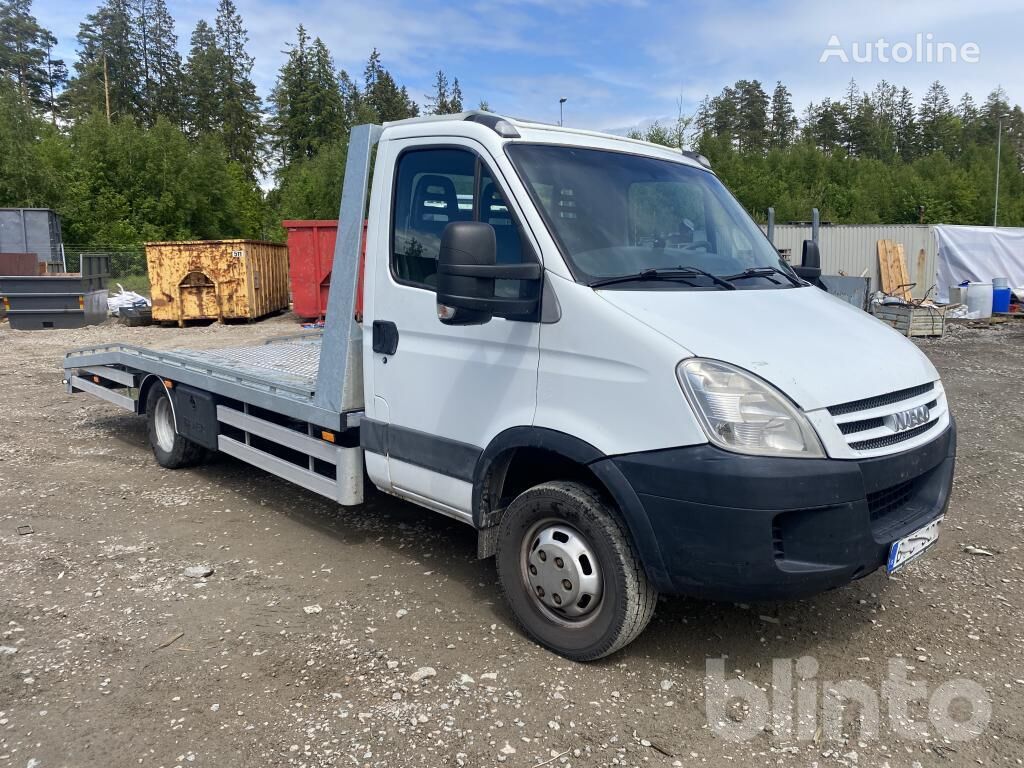 1/15
Location
Sweden
Placed on
more than 1 month
Model: 35 C18.
Year model: 2009.
Mileage: 259918 km.
Gearbox: 6-speed manual.
Engine: 3.0 16v. with timing chain.
Power: 130 kW.
Webasto.
Towbar.
Loading ramps.
Winch: Hunter 13 tons.
Hand controls, 12v and wireless.
Slideable sideways.
Removable wheel stops.
B card car.

Flat dimensions:
Length: 5100 mm.
Width: 2100 mm.

Seller's Comment:
Car in working condition.
Recently replaced Turbo.
Inspected until: 2023-01-31.
Modell: 35 C18.
Baujahr: 2009.
Laufleistung: 259918 km.
Getriebe: 6-Gang-Schaltgetriebe.
Motor: 3,0 16v. mit Steuerkette.
Leistung: 130 kW.
Webasto.
Anhängerkupplung.
Laderampen.
Winde: Hunter 13 Tonnen.
Handsteuerungen, 12 V und drahtlos.
Seitlich verschiebbar.
Abnehmbare Radstopper.
Auto mit B-Karte.

Flache Abmessungen:
Länge: 5100 mm.
Breite: 2100 mm.

Kommentar des Verkäufers:
Auto in funktionstüchtigem Zustand.
Kürzlich Turbo getauscht.
Geprüft bis: 31.01.2023.
Mudel: 35 C18.
Aasta mudel: 2009.
Läbisõit: 259918 km.
Käigukast: 6-käiguline manuaal.
Mootor: 3.0 16v. koos ajastusketiga.
Võimsus: 130 kW.
Webasto.
Haakekonks.
Laadimisrambid.
Vints: Hunter 13 tonni.
Käsijuhtimine, 12v ja juhtmevaba.
Külgpidi lükatav.
Eemaldatavad rattapeatused.
B-kaardiga auto.

Lamedad mõõtmed:
Pikkus: 5100 mm.
Laius: 2100 mm.

Müüja kommentaar:
Auto töökorras.
Hiljuti vahetatud Turbo.
Ülevaatus kuni: 2023-01-31.
Modelis: 35 C18.
Metų modelis: 2009 m.
Rida: 259918 km.
Pavarų dėžė: 6 greičių mechaninė.
Variklis: 3.0 16v. su paskirstymo grandine.
Galia: 130 kW.
Webasto.
Vilkimo kablys.
Pakrovimo rampos.
Gervė: Hunter 13 tonų.
Rankiniai valdikliai, 12v ir bevielis.
Slenkama į šoną.
Nuimami ratų stabdžiai.
B kortelės automobilis.

Plokšti matmenys:
Ilgis: 5100 mm.
Plotis: 2100 mm.

Pardavėjo komentaras:
Veikiančios būklės automobilis.
Neseniai pakeistas Turbo.
Apžiūrėta iki: 2023-01-31.
Modelis: 35 C18.
Izlaiduma gads: 2009.
Nobraukums: 259918 km.
Ātrumkārba: 6 ātrumu manuālā.
Dzinējs: 3.0 16v. ar laika ķēdi.
Jauda: 130 kW.
Webasto.
Sakabes āķis.
Iekraušanas rampas.
Vinča: Hunter 13 tonnas.
Rokas vadība, 12v un bezvadu.
Bīdāms uz sāniem.
Noņemami riteņu aizturi.
B kartes auto.

Plakanā izmēra izmēri:
Garums: 5100 mm.
Platums: 2100 mm.

Pārdevēja komentārs:
Auto darba stāvoklī.
Nesen nomainīts Turbo.
Apskate līdz: 2023-01-31.
Model: 35 C18.
Rok modelowy: 2009.
Przebieg: 259918 km.
Skrzynia biegów: 6-biegowa manualna.
Silnik: 3.0 16v. z łańcuchem rozrządu.
Moc: 130 kW.
Webasto.
Hak holowniczy.
Rampy załadunkowe.
Wciągarka: Hunter 13 ton.
Sterowanie ręczne, 12V i bezprzewodowe.
Przesuwany na boki.
Zdejmowane ograniczniki kół.
Samochód z kartą B.

Wymiary mieszkania:
Długość: 5100 mm.
Szerokość: 2100 mm.

Komentarz sprzedawcy:
Samochód sprawny.
Niedawno zastąpiony Turbo.
Inspekcja do: 2023-01-31.
Modell: 35 C18.
Årsmodell: 2009.
Miltal: 259918 km.
Växellåda: 6-växlad manuell.
Motor: 3,0 16v. med kamkedja.
Effekt: 130 kW.
Webasto.
Dragkrok.
Lastramper.
Vinsch: Hunter 13 tons.
Handkontroller, 12v samt trådlös.
Skjutbar i sidled.
Flyttbara hjulstopp.
B-kortsbil.

Flakmått:
Längd: 5100 mm.
Bredd: 2100 mm.

Säljarens kommentar:
Bil i fungerande skick.
Nyligen bytt Turbo.
Besiktigad till: 2023-01-31.