The ad MERCEDES-BENZ Axor 1829L Lumikko fridge refrigerated truck has been sold and is not included in the search!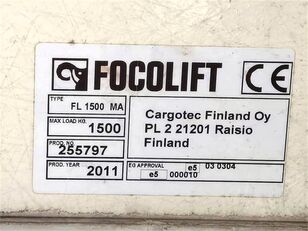 1/14
Model
Axor 1829L Lumikko fridge
Year of manufacture
05/2011
Location
Lithuania
Ginduliai
Placed on
more than 1 month
Truck body
Body dimensions
8.5 m × 2.5 m × 2.4 m
Cabin
Cruise control (tempomat)
Additional equipment
Temperature control
from +30 °C to +30 °C
Mercedes Benz Axor 1829L Fridge
Half automatic 3 pedals
480000km ( real milleage )
Cargo space 8500x2500x2400mm
Tyres remaining 60/60%
Total weight 18000kg
Lumikko fridge 90DS diesel-elektric
Back camera
Lift 1500kg with remote control

********

Over all good quality truck, technically tested, in fully working condition, no damages, no mechanical problems.

Please ask for more information, Video / WhatsApp / Viber / rodyti kontaktus / or send email request.

We deliver and ship our trucks Worldwide, Please ask for rates!
Mercedes Benz Axor 1829L Šaldytuvas
Pusiau automatinė 3 pėdalai
480000km ( Tikra rida )
Vidaus matmenys 8500x2500x2400mm
Padangų likutis 60/60%
Bendroji masė 18000kg
Lumikko Šaldytuvas 90DS diesel-elektra
Galinė kamera
Liftas 1500kg su distanciniu

********

Gerame stovyje, visi mūsų sunkvežimiai techniškai patikrinti.

Lietuvoje neeksploatuota.

Galime atlikti techninę apžiūrą, registraciją.

Daugiau informacijos, Video / WhatsApp / Viber / +37060425183.

Organizuojame technikos pristatymą į kitas šalis ar jūrų uostus.