MGC CENTRUM SAMOCHODOW DOSTAWCZYCH
In stock: 56 ads
13 years at Autoline
27 years on the market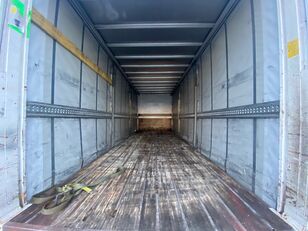 1/29
Location
Poland
ŁAZISKA GÓRNE
Purchase on credit is possible
Purchase by installments is possible
Truck body
Body dimensions
8.16 m × 2.49 m × 2.64 m
Cabin
Electrically operated mirrors
Need delivery?
Calculate the cost of delivery
Cheap and good 20 Pallet curtain straight from France.
Not used in Poland.
After the first owner.
Serviced on a regular basis.
Production 11/2011 -model and used since 2012.

GVM: 19,000 kg
Own weight: 8,660 kg
Load capacity: 10 340 kg + 2 people
The rear lift is broken / hidden under the undercarriage
Good, proven engine: 6700ccm with 300HP

PACK DIMENSIONS:
Length: 8.16 cm
Width: 2.49 cm
Height: 2.64 cm
Wheelbase: 6.20 cm

Equipment:
-ABS
-Windch Dhollandia 1.5t
- Aftermarket MP3 radio
- Sunroof
- Rear view camera
-On-board computer
- Seat adjustment
-Electric windows
-Electric mirrors
-Tachograph
-Tempomat
-Multifunction steering wheel
-2 places

Inspection report:
The vehicle was checked, it came on wheels from France without any problems, the suspension and the engine are fully functional. The condition of the vehicle is very good, of course it is slightly used but it has already worked a bit.
Just get in and go. Medium condition tires, dimensions 315 / 80R22.5.

I invite you to my own inspection.

We offer a transfer to the port in Gdańsk or Bremenhaven in Germany, please contact us for a quote.

If you want to buy a decent car, WELCOME TO US.
If YOU ONLY GUIDE YOURSELF BY THE PRICE, and parameters such as: ACTUAL COURSE OR ACCIDENTITY are SECONDARY VALUES for you, then in our humble opinion, a DAMAGE to your and our TIME
Tania a Dobra 20 Paletowa firanka prosto z Francji .
Nie użytkowana w Polsce .
Po pierwszym właścicielu .
Serwisowana na bieżąco .
Produkcja 11/2011 -model i użytkowany od 2012 roku .

DMC : 19000 kg
Masa własna : 8660 kg
Ładowność : 10340 kg + 2 osoby
Tylna winda łamana /chowana pod podwozie
Dobry , sprawdzony silnik : 6700ccm o mocy 300KM

WYMIARY PAKI :
Długość : 8,16cm
Szerokość :2,49cm
Wysokość :2,64cm
Rozstaw osi: 6,20cm

Wyposażenie:
-ABS
-Winda Dhollandia 1.5t
-Radio niefabryczne MP3
-Szyberdach
-Kamera cofania
-Komputer pokładowy
-Regulacja fotela
-Elektryczne szyby
-Elektryczne lusterka
-Tachograf
-Tempomat
-Wielofunkcyjna kierownica
-2 Miejsca

Raport z oględzin:
Pojazd został sprawdzony, przyjechał na kołach z Francji bez żadnych problemów, zawieszenie jak i silnik w pełni sprawne. Stan pojazdu oceniam na bardzo dobry, oczywiście jest lekko z użyty ale troszkę już popracował.
Wystarczy wsiąść i jechać. Opony w średnim stanie, wymiary 315/80R22,5.

Zapraszam na własne oględziny.

Oferujemy transfer do portu w gdańsku bądż w Niemczech Bremenhaven o wycenę proszę się kontaktować.

Jeśli pragniesz zakupić PORZĄDNE AUTO, TO ZAPRASZAMY DO NAS.
Jeśli TYLKO SUGERUJESZ SIĘ CENĄ, a takie parametry jak: RZECZYWISTY PRZEBIEG CZY BEZWYPADKOWOŚĆ to dla Ciebie WARTOŚCI DRUGORZĘDNE, to naszym skromnym zdaniem SZKODA Twojego i naszego CZASU

NINIEJSZE OGŁOSZENIE MA CHARAKTER JEDYNIE INFORMACYJNY I NIE STANOWI OFERTY W MYŚL ART. 66, § 1. KODEKSU CYWILNEGO. NASZA FIRMA NIE PONOSI ODPOWIEDZIALNOŚCI ZA DROBNE BŁĘDY ORAZ ZAWARTE W OGŁOSZENIU NIEKOMPLETNE INFORMACJE LUB NIEAKTUALNOŚĆ OGŁOSZENIA.
Important
This offer is for guidance only. Please request more precise information from the seller.
Safety tips
Seller's contacts
Mariusz Gruchel
właściciel
Languages:
English, Russian, Polish
Poland, Silesian, 43-170, ŁAZISKA GÓRNE, ul. HUTNICZA 6
Seller's local time: 12:01 (CET)
Selling machinery or vehicles?
You can do it with us!