The ad RENAULT Magnum 440 PIANO MOBILE !!! vending truck has been sold and is not included in the search!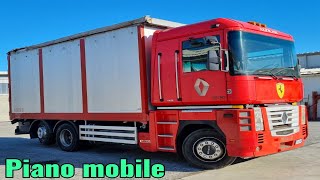 1/21
Model
Magnum 440 PIANO MOBILE !!!
Location
Italy
Chiusa di Pesio (CN)
Placed on
more than 1 month
Description
Overall dimensions
length - 8.75 m
Truck body
Body dimensions
6.4 m × 2.46 m × 2.7 m
Renault Magnum 440 PIANO MOBILE

(Cod.BRRN1005)

PIANO MOBILE ADATTO AL TRASPORTO DI MATERIALE SFUSO

Anno 2005
Km 619.000
3 Assi 6X2
Altezza interna 2.70 m
Lunghezza cassone 6.40 m
Larghezza interna 2.46 m
Lunghezza totale 8.75 m
Cambio automatico
Passo 4550
Sospensioni aria avanti e dietro
Campana traino
Aria condizionata da parcheggio
Euro 3
Portata complessiva 26000
Portata Utile 14000
Tara 12000
Portata Rimorchiabile 44000

Contatto commerciale Paolo Camacho +39 3883029011

Il prezzo esposto si intende + IVA

Acquistiamo e valutiamo permute con autocarri, veicoli agricoli e movimento terra di tutte le marche.